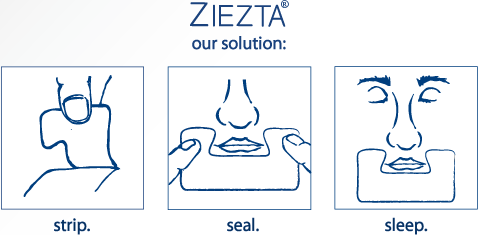 • Peel the Ziezta® sleep strip off the backing.
• Firmly stick the center of the Ziezta® sleep strip about 1/8 inch below your lower lip. Then pull the side strips well up on either side of your nose to hold your lips shut tight.
• When you are finished sleeping, slowly peel off the Ziezta® sleep strip and discard it.
• Use Ziezta® sleep strips on successive nights for a week or more to give your body time to adjust.
• Before you apply the strip, fold over a tiny corner on each side of the top of the strip. This will make 2 tabs to hold for removal.
• To avoid irritating your skin, always remove the strip by pulling down, never up.
• Use moisturizing cream on your face before applying the strip. If you have dry skin or if you have just washed your face, stick the strip to the palm of your hand once or twice to reduce its adhesiveness.
• Make sure your lower lip is held up tight against your upper lip. If it is too loose, re-attach the sides of the strip higher on your cheeks.
• The hypoallergenic medical-grade adhesive strip is water resistant; water will not assist in removal.
• At first, put on the strip 30 minutes before sleep. Accustom yourself to breathing normally through your nose during this period. If airflow is restricted, try using along with a Breathe Right® nasal strip or try a saline rinse to open your nasal passages. See your doctor if nasal congestion persists.
• Read the FAQ (Frequently Asked Questions).
• If you have questions, contact us.